Название
: Understanding and Using English Grammar.
Автор
: Betty Azar.
2002.
Understanding and Using English Grammar is a developmental skills text for intermediate to advanced students of English as a second or foreign language. While focusing on grammar, it promotes the development of all language skills in a variety of ways. It functions principally as a classroom teaching text but also serves as a comprehensive reference text for students and teachers
The eclectic approach and abundant variety of exercise material remain the same as in the earlier editions, but each new edition incorporates new ways and means. In particular:
The communicative aspects of Understanding and Using English Grammar are more fully developed and explicit in the third edition. There are numerous "real communication" opportunities for the teacher to exploit. The text often uses the students' own life experiences as context and regularly introduces topics of interest to stimulate the free expression of ideas in structured as well as open discussions. The text supports the view of many experienced teachers that grammar-based and communicative approaches are not mutually exclusive, but rather mutually supportive and can co-exist in the same language program, even in the same class, even in the same lesson.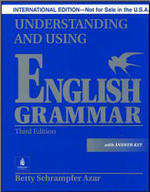 Similarly, the interactive aspects of the text receive greater emphasis in the third edition. Many of the exercises formerly designated "oral" or "oral (books closed)" are now reformatted to be used for pair work or group work, in addition to still being viable as class work led by a teacher. This edition encourages interactivity but leaves it open for the users to decide what degree of interactivity best suits their needs.
There is now an even wider variety of exercise types. This new edition has added more free-response exercises and open-ended communicative tasks, while still providing ample controlled-response exercises to aid initial understanding of the form, meaning, and usage of the target structures. It also includes more writing topics, more speaking activities, expanded error-analysis exercises, and additional extended-context exercises.
Long chapters have been broken into shorter units, and certain grammar units have been reorganized.
CONTENTS
PREFACE TO THE THIRD EDITION
ACKNOWLEDGMENTS xv
Chapter 1
OVERVIEW OF VERB TENSES
1-1 THE SIMPLETENSES 2
1-2 THE PROGRESSIVE TENSES 3
1-3 THE PERFECTTENSES 4
1-4 THE PERFECT PROGRESSIVE TENSES 5
1-5 SUMMARY CHART OFVERBTENSES 6
1-6 SPELLING OF -ING AND -ED FORMS 10
Chapter 2
PRESENT AND PAST, SIMPLE AND PROGRESSIVE
2-1 SIMPLE PRESENT 13
2-2 PRESENT PROGRESSIVE 13
2-3 STATIVE VERBS 15
2-4 AM/IS/ARE BEING + ADJECTIVE 17
2-5 REGULARAND IRREGULAR VERBS 19
2-6 REGULAR VERBS: PRONUNCIATION OF -ED ENDINGS 20
2-7 IRREGULAR VERBS: AN ALPHABETICAL LIST 22
2-8 TROUBLESOME VERBS: RAISE/RISE, SET/SIT, LAY/LIE 26
2-9 SIMPLE PAST 27
2-10 PAST PROGRESSIVE 28
2-11 USING PROGRESSIVE VERBS WITH ALWAYSTO COMPLAIN , 30
2-12 USING EXPRESSIONS OF PLACE WITH PROGRESSIVE VERBS 31
Chapter 3
PERFECT AND PERFECT PROGRESSIVE TENSES
3-1 PRESENT PERFECT 36
3-2 PRESENT PERFECT PROGRESSIVE 42
3-3 PAST PERFECT 45
3-4 PAST PERFECT PROGRESSIVE 47
Chapter 4
FUTURE TIME
4-1 SIMPLE FUTURE: WILL AND BE GOING TO 51
4-2 WILL vs BE GOING TO 52
4-3 EXPRESSING THE FUTURE INTIME CLAUSES 55
4-4 USING THE PRESENT PROGRESSIVE AND THE SIMPLE PRESENT
TO EXPRESS FUTURE TIME 57
4-5 FUTURE PROGRESSrVE 60
4-6 FUTURE PERFECT 62
4-7 FUTURE PERFECT PROGRESSIVE 62
Chapter 5
ADVERB CLAUSES OF TIME AND REVIEW OF VERB TENSES
5-1 ADVERB CLAUSES OFTIME: FORM 70
5-2 USING ADVERB CLAUSES TO SHOWTIME RELATIONSHIPS 72
Chapter 6
SUBJECT-VERB AGREEMENT
6-1 FINAL -S/-ES: USE, PRONUNCIATION, AND SPELLING 84
6-2 BASIC SUBJECT-VERB AGREEMENT 88
6-3 SUBJECT-VERB AGREEMENT: USING EXPRESSIONS OF QUANTITY 89
6-4 SUBJECT-VERB AGREEMENT: USING THERE + BE 90
6-5 SUBJECT-VERB AGREEMENT: SOME IRREGULARITIES 92
Chapter 7
NOUNS
7-1 REGULAR AND IRREGULAR PLURAL NOUNS 100
7-2 POSSESSIVE NOUNS 103
7-3 USING NOUNS AS MODIFIERS 105
7-4 COUNT AND NONCOUNT NOUNS 107
7-5 NONCOUNT NOUNS 108
7-6 SOME COMMON NONCOUNT NOUNS 108
7-7 BASIC ARTICLE USAGE 112
7-8 GENERAL GUIDELINES FOR ARTICLE USAGE 115
7-9 EXPRESSIONS OF QUANTITY 119
7-10 USING A FEW AND FEW; A LITTLE AND LITTLE 123
7-11 USING OF IN EXPRESSIONS OF QUANTITY 125
7-12 ALL (OF) AND BOTH (OF) 126
7-13 SINGULAR EXPRESSIONS OF QUANTITY: ONE, EACH, EVERY 128
Chapter 8
PRONOUNS
8-1 PERSONAL PRONOUNS 132
8-2 PERSONAL PRONOUNS: AGREEMENT WITH GENERIC NOUNS AND
INDEFINITE PRONOUNS 134
8-3 PERSONAL PRONOUNS: AGREEMENT WITH COLLECTIVE NOUNS 136
8-4 REFLEXIVE PRONOUNS 138
8-5 USING YOU, ONE, AND THEY AS IMPERSONAL PRONOUNS 140
8-6 FORMS OF OTHER 142
8-7 COMMON EXPRESSIONS WITH OTHER 145
Chapter 9
MODALS, PART 1
9-1 INTRODUCTION 151
9-2 POLITE QUESTIONS WITH /ASTHE SUBJECT 152
9-3 POLITE QUESTIONS WITH YOU ASTHE SUBJECT 152
9-4 POLITE REQUESTS WITH WOULD YOU MIND 153
9-5 EXPRESSING NECESSITY: MUST, HAVE TO, HAVE GOT TO 157
9-6 LACK OF NECESSITY AND PROHIBITION: HAVE TO AND MUST
INTHE NEGATIVE 158
9-7 ADVISABILITY: SHOULD, OUGHT TO, HAD BETTER 160
9-8 THE PAST FORM OF SHOULD 163
9-9 EXPECTATIONS: BE SUPPOSED TO 166
9-10 MAKING SUGGESTIONS: LET'S, WHY DON'T, SHALL I/WE 169
9-11 MAKING SUGGESTIONS: COULDvs SHOULD 171
Chapter 10
MODALS, PART 2
10-1 DEGREES OF CERTAINTY: PRESENTTIME 176
10-2 DEGREES OF CERTAINTY: PRESENTTIME NEGATIVE 178
10-3 DEGREES OF CERTAINTY: PASTTIME 181
10-4 DEGREES OF CERTAINTY: FUTURE TIME 184
10-5 PROGRESSIVE FORMS OF MODALS 188
10-6 ABILITY: C4NAND COULD 193
10-7 USING WOULDTO EXPRESS A REPEATED ACTION IN THE PAST 195
10-8 EXPRESSING PREFERENCE: WOULD RATHER 197
10-9 COMBINING MODALS WITH PHRASAL MODALS 198
10-10 SUMMARY CHART OF MODALS AND SIMILAR EXPRESSIONS 199
Chapter 11
THE PASSIVE
11-1 FORMFNGTHE PASSIVE 208
11-2 USFNG THE PASSIVE 211
11-3 INDIRECT OBJECTS USED AS PASSIVE SUBJECTS 213
11-4 THE PASSIVE FORM OF MODALS AND PHRASAL MODALS 218
11-5 STATIVE PASSIVE 225
11-6 COMMON STATIVE PASSrVE VERBS + PREPOSITIONS 228
11-7 THE PASSIVE WITH GET 232
11-8 PARTICIPIAL ADJECTTVES 235
Chapter 12
NOUN CLAUSES
12-1 INTRODUCTION 239
12-2 NOUN CLAUSES BEGINNING WITH A QUESTION WORD 240
12-3 NOUN CLAUSES BEGINNING WITH WHETHER OR IF 245
12-4 QUESTIONWORDS FOLLOWED BY INFINITIVES 247
12-5 NOUN CLAUSES BEGPNNING WITH THAT 248
12-6 QUOTED SPEECH 251
12-7 REPORTED SPEECH: VERB FORMS IN NOUN CLAUSES 254
12-8 USING THE SUBJUNCTIVE IN NOUN CLAUSES 263
12-9 USFNG -EVER WORDS 265
Chapter 13
ADJECTIVE CLAUSES
13-1 INTRODUCTION 267
13-2 ADJECTIVE CLAUSE PRONOUNS USED AS THE SUBJECT 268
13-3 ADJECTIVE CLAUSE PRONOUNS USED AS THE OBJECT OF A VERB 268
13-4 ADJECTIVE CLAUSE PRONOUNS USED AS THE OBJECT OF
A PREPOSITION 269
13-5 USUAL PATTERNS OF ADJECITVE CLAUSES 270
13-6 USFNG WHOSE 274
13-7 USING WHERE IN ADJECTIVE CLAUSES 277
13-8 USING WHEN IN ADJECTIVE CLAUSES 277
13-9 USFNG ADJECTIVE CLAUSES TO MODIFY PRONOUNS 280
13-10 PUNCTUATING ADJECTIVE CLAUSES 281
13-11 USFNG EXPRESSIONS OF QUANTITY FN ADJECTIVE CLAUSES 285
13-12 USFNG NOUN + OFWHICH 286
13-13 USING WHICH TO MODIFY A WHOLE SENTENCE 286
13-14 REDUCING ADJECTIVE CLAUSES TO ADJECTIVE
PHRASES: INTRODUCTION 290
13-15 CHANGING AN ADJECTIVE CLAUSE TO AN ADJECTIVE PHRASE 290
Chapter 14
GERUNDS AND INFINITIVES, PART 1
14-1 GERUNDS: INTRODUCTION 297
14-2 USING GERUNDS AS THE OBJECTS OF PREPOSITIONS 298
14-3 COMMON PREPOSITION COMBINATIONS FOLLOWED BY GERUNDS 299
14-4 COMMON VERBS FOLLOWED BY GERUNDS 302
14-5 GO + GERUND 303
14-6 SPECIAL EXPRESSIONS FOLLOWED BY -ING 304
14-7 COMMON VERBS FOLLOWED BY INFINITIVES 307
14-8 COMMON VERBS FOLLOWED BY EITHER INFINITIVES OR GERUNDS 311
14-9 REFERENCE LIST OF VERBS FOLLOWED BY GERUNDS 318
14-10 REFERENCE LIST OFVERBS FOLLOWED BY INFINITIVES 319
14-11 IT + INFINITIVE; GERUNDS AND INFINITIVES AS SUBJECTS 323
Chapter 15
GERUNDS AND INFINITIVES, PART 2
15-1 ESTFINITrVE OF PURPOSE: IN ORDER TO 326
15-2 ADJECTIVES FOLLOWED BY INFINITIVES 328
15-3 USING INFINITIVES WITH TOO AND ENOUGH 330
15-4 PASSIVE AND PAST FORMS OF INFINnTVES AND GERUNDS 331
15-5 USING GERUNDS OR PASSIVE INFINnTVES FOLLOWING NEED 333
15-6 USING A POSSESSrVETO MODIFY A GERUND 334
15-7 USING VERBS OF PERCEPTION 336
15-8 USING THE SIMPLE FORM AFTER LET AND HELP 338
15-9 USING CAUSATIVE VERBS: MAKE, HAVE, GET 339
Chapter 16
COORDINATING CONJUNCTIONS
16-1 PARALLEL STRUCTURE 348
16-2 USING PAIRED CONJUNCTIONS: BOTH AND; NOT ONLY
BUT ALSO; EITHER OR; NEITHER NOR 353
16-3 COMBINING INDEPENDENT CLAUSES WITH COORDINATING
CONJUNCTIONS 355
Chapter 17
ADVERB CLAUSES
17-1 INTRODUCTION 359
17-2 USING ADVERB CLAUSES TO SHOW CAUSE AND EFFECT 362
17-3 EXPRESSING CONTRAST (UNEXPECTED RESULT):
USING EVENTHOUGH 363
17-4 SHOWING DIRECT CONTRAST: WHILE AND WHEREAS 366
17-5 EXPRESSING CONDITIONS ПчГ ADVERB CLAUSES: /F-CLAUSES 367
17-6 ADVERB CLAUSES OF CONDITION: USING WHETHER OR NOT
AND EVEN IF 368
17-7 ADVERB CLAUSES OF CONDITION: USING IN CASE AND
INTHE EVENTTHAT 369
17-8 ADVERB CLAUSES OF CONDITION: USING UNLESS 370
17-9 ADVERB CLAUSES OF CONDITION: USING ONLY IF 371
Chapter 18
REDUCTION OF ADVERB CLAUSES TO MODIFYING ADVERBIAL PHRASES
18-1 INTRODUCTION 374
18-2 CHANGING TIME CLAUSES TO MODIFYING ADVERBIAL PHRASES 375
18-3 EXPRESSING THE IDEA OF "DURING THE SAME TIME"
IN MODIFYING ADVERBIAL PHRASES 376
18-4 EXPRESSING CAUSE AND EFFECT IN MODIFYING
ADVERBIAL PHRASES 376
18-5 USING UPON + -ING IN MODIFYING ADVERBIAL PHRASES 380
Chapter 19
CONNECTIVES THAT EXPRESS CAUSE AND EFFECT, CONTRAST, AND CONDITION
19-1 USING BECAUSE OF AND DUETO 385
19-2 USING TRANSITIONS TO SHOW CAUSE AND EFFECT:
THEREFORE AND CONSEQUENTLY 387
19-3 SUMMARY OF PATTERNS AND PUNCTUATION 389
19-4 OTHER WAYS OF EXPRESSING CAUSE AND EFFECT:
SUCH THAT AND SO THAT 391
19-5 EXPRESSING PURPOSE: USING SO THAT 393
19-6 SHOWING CONTRAST (UNEXPECTED RESULT) 395
19-7 SHOWING DIRECT CONTRAST 398
19-8 EXPRESSING CONDITIONS: USING OTHERWISE AND OR (ELSE) 401
19-9 SUMMARY OF CONNECTIVES: CAUSE AND EFFECT, CONTRAST,
CONDITION 402
Chapter 20
CONDITIONAL SENTENCES AND WISHES
20-1 OVERVIEW OF BASIC VERB FORMS USED IN
CONDITIONAL SENTENCES 413
20-2 TRUE INTHE PRESENT OR FUTURE 414
20-3 UNTRUE (CONTRARYTO FACT) INTHE PRESENT OR FUTURE 415
20-4 UNTRUE (CONTRARYTO FACT) INTHE PAST 418
20-5 USING PROGRESSIVE VERB FORMS IN CONDITIONAL SENTENCES 423
20-6 USING "MIXED TIME" IN CONDITIONAL SENTENCES 424
20-7 OMITTING IF 424
20-8 IMPLIED CONDITIONS 425
20-9 USING AS IF/AS THOUGH 430
20-10 VERB FORMS FOLLOWING WISH 432
20-11 USING WOULDTO MAKE WISHES ABOUTTHE FUTURE 434
Appendix SUPPLEMENTARY GRAMMAR UNITS
Unit A: BASIC GRAMMAR TERMINOLOGY
A-l SUBJECTS, VERBS, AND OBJECTS Al
A-2 PREPOSITIONS AND PREPOSITIONAL PHRASES A3
A-3 ADJECTIVES A4
A-4 ADVERBS A4
A-5 THE VERB BE A6
A-6 LINKING VERBS A6
Unit B: QUESTIONS
B-l FORMS OFYES/NO AND INFORMATION QUESTIONS A8
B-2 QUESTION WORDS A9
B-3 SHORTENED YES/NO QUESTIONS AI2
B-4 NEGATIVE QUESTIONS A13
B-5 TAG QUESTIONS A15
Unit C: CONTRACTIONS A17
Unit D: NEGATIVES
D-l USING NOT AND OTHER NEGATIVE WORDS Al8
D-2 AVOIDING DOUBLE NEGATIVES A20
D-3 BEGINNING A SENTENCE WITH A NEGATIVE WORD A20
Unit E: PREPOSITION COMBINATIONS
E PREPOSITION COMBINATIONS WITH ADJECTIVES AND VERBS A21
Unit F: CONNECTIVES TO GIVE EXAMPLES AND TO CONTINUE AN IDEA
F-l CONNECTrVESTO GIVE EXAMPLES A24
F-2 CONNECTIVESTO CONTINUETHE SAME IDEA A26
Unit G: VERB FORM REVIEW EXERCISES A26
ANSWER KEY ANSWER KEY I
INDEX INDEX 1
Бесплатно скачать электронную книгу в удобном формате, смотреть и читать:
Скачать книгу Understanding and Using English Grammar - Betty Azar
- fileskachat.com, быстрое и бесплатное скачивание.
Скачать djvu
Ниже можно купить эту книгу по лучшей цене со скидкой с доставкой по всей России.
Купить эту книгу
Скачать - Книгу - Understanding and Using English Grammar - Betty Azar
- depositfiles.com
Скачать - Книгу - Understanding and Using English Grammar - Betty Azar
- letitbit.net
Дата публикации:
Теги:
скачать книгу по англйискому языку бесплатно
::
Understanding English Grammar
::
Using English Grammar
::
Betty Azar