Название: McGraw-Hill's. Super-Mini American Idioms Dictionary.
Автор: Richard Spears.
2007
Every language has phrases that cannot be understood literally. Even if you know the meanings of all the words in such a phrase and you understand the grammar completely, the total meaning of the phrase may still be confusing. English has many such idiomatic expressions. This dictionary is a selection of the frequently encountered idiomatic expressions found in everyday American English. The collection is small enough to serve as a useful study guide for learners, and large enough to serve as a reference for daily use.
This third edition contains 2,000 idiomatic phrases. This edition also has a Hidden Key Word Index that allows the user to find a particular idiom by looking up the words found "inside the idiom," which is useful in finding the key words that do not occur at the beginning of the idiomatic phrase.
This dictionary should prove useful for people who are learning how to understand idiomatic English and for all speakers of English who want to know more about their language.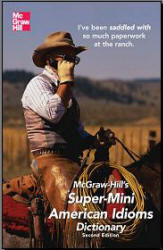 Fixed and Variable Idioms
Although idioms are usually described as "fixed phrases," most of them exhibit some type of variation. A much larger number of idioms present different kinds of variation, and much of the symbolic and typographic apparatus used here describes the details of this variation. The majority of the idioms found in this dictionary- and in the real world-allow four kinds of variation, as represented by optional elements, variable elements, movable elements, and grammatical variation. Optional elements are enclosed in parentheses within an entry head. Variable elements are printed in a light, condensed sans serif typeface in an entry head. Movable elements, mostly in idiomatic phrasal verbs, are followed by the dagger (t). Grammatical variation-as with differences in tense, aspect, voice, irregular forms, number, and pronoun case and gender-can cause some confusion in identifying the dictionary form of the idiom. A knowledge of basic English grammar provides the ability to reduce nouns to their singular form, verbs to their infinitive or bare form, and passive voice to active.
Contents
Introduction
How the Dictionary Works
Idioms Dictionary
Hidden Key Word Index
Бесплатно скачать электронную книгу в удобном формате, смотреть и читать:
Скачать книгу McGraw-Hills. Super-Mini American Idioms Dictionary, Richard Spears, 2007
- fileskachat.com, быстрое и бесплатное скачивание.
Скачать pdf
Ниже можно купить эту книгу по лучшей цене со скидкой с доставкой по всей России.
Купить эту книгу
Скачать книгу McGraw-Hill's. Super-Mini American Idioms Dictionary. Richard Spears. 2007
- depositfile
Дата публикации:
Теги:
словарь английских идиом
::
английский язык
::
Richard Spears
::
idioms dictionary