Название
: NTC's Pocket Dictionary of Words and Phrases.
Автор
: Richard Spears.
2003.
Containing 6000 basic words and 6000 common idioms and phrasal verbs, Spears's latest book will be in demand by ESL students, teachers, and foreigners traveling in the United States. A former linguistics professor, Spears has written or edited over 30 dictionaries, including NTC's Dictionary of American Slang and Colloquial Expressions, and is currently editorial director of the dictionaries and reference department at Contemporary Books. Here, he places phrases in their normal alphabetical positions and again "at the entry of each non-initial, major word in the phrase." For example, Spears defines "clockwork" as "the moving parts inside a clock or mechanical device, such as a wind-up toy" and gives two examples "(as) regular as clockwork" and "go like clockwork." Both phrases can be found listed separately, in alphabetical order, with definitions. Each entry includes a pronunciation guide using the International Phonetic Alphabet, basic definitions, examples where needed for clarification, lists of transitive and intransitive verbs, spelling rules and words with spelling irregularities, and words with pronunciations that vary depending upon usage. Spears is careful to use simple words in each definition. Recommended for all libraries with a demand for ESL materials.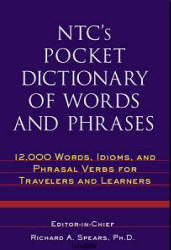 This dictionary defines words using the smallest possible vocabulary, but when it is necessary, additional words are used to define difficult concepts. In many cases, more than one definition is given, so the learner has additional help in figuring out the meaning of a word or expression.
Contents
Introduction
How lo Use This Dictionary
Useful Spelling Rules
Lists of Words
Abbreviations and Symbols
Pronunciation
Entries
Бесплатно скачать электронную книгу в удобном формате, смотреть и читать:
Скачать книгу NTC s Pocket Dictionary of Words and Phrases - Richard Spears
- fileskachat.com, быстрое и бесплатное скачивание.
Скачать pdf
Ниже можно купить эту книгу по лучшей цене со скидкой с доставкой по всей России.
Купить эту книгу
Скачать книгу NTC's Pocket Dictionary of Words and Phrases - Richard Spears
- depositfiles
Скачать книгу NTC's Pocket Dictionary of Words and Phrases - Richard Spears
- letitbit
Дата публикации:
Теги:
скачать учебник по английскому языку бесплатно
::
английский язык
::
Spears
::
phrases
---
Следующие учебники и книги:
Предыдущие статьи:
---