IELTS Speaking and Actual Tests, Suggested Answers, May-August, 2019.
Most candidates like to read model answers as a very powerful way to get the best possible Band score when they are preparing for the IELTS speaking module. This ebook provides model answers for IELTS Speaking Actual Tests that appears in the IELTS speaking module. Even if your English is not perfect, you can transform your IELTS Band score by using this book.
The model answers are intended as a guide and candidates should modify the answers to suit their own circumstances and add to them wherever appropriate. In other words, candidates should consider using the vocabulary and grammatical structures in this book to help them to create their own answers.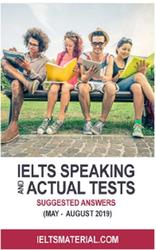 Films.
5.1. Do you like watch films?
Absolutely! They are an excellent way to unwind (relax; free your mind). Moreover, my friends are reallt into films, so it's a fun, relaxing way to spend time together. Afterwards, we discuss and debate the film that we have just watched. Apart from just relaxing and enjoying the film, I like to delve deeper (get to the deeper meaning) to discover the subliminal messages.
5.2. What kinds of movies do you like best?
Well, I would say I'm still a kid at heart (a person who still feels like a child in their heart), so I really enjoy watching kids' movies. Although they seem simple and innocent, there are often many life lessons packed into these films. Moreover, I'm really into drama and historical movies. When I watch these, I feel that I can more deeply understand human emotions and re-live historical moments, like the Vietnam-America War or World War II.
5.3. Do you prefer foreign films or films made in your country?
Since my country doesn't have a huge film industry, I've always been really into American films. Not to knock (to insult; discredit) other film industries, but American ones are incredibly entertaining and well-made; the evolution of film continues to amaze me. Moreover, I only watch films in English so it helps me to learn new slang and expressions.
CONTENT.
Preface.
PART I.
1. Smiling.
2. Time management.
3. Perfume.
4. Transportation.
5. Films.
6. Borrowing & Lending.
7. Mathematics.
8. Sports Physical Exercises.
9. Drinking Water.
10. Flats Houses Accommodation.
11. Reading.
12. Rubbish Garbage.
13. Tea or coffee.
14. Sky.
15. Social Media.
16. Visiting Relatives.
17. Stars.
18. Crowded Places.
19. Work Study.
20. Travel & Festival.
21. Street Markets.
22. Sharing.
23. Letters / Handwriting.
24. Hometown.
25. Photographs.
26. Weather.
27. Sleep.
28. Patience.
29. Pets / Animals.
30. Dance.
31. Neighbors.
32. City.
33. Driving.
PART II & III.
1/ Describe a friend or a person who encouraged you to achieve a goal.
2/ Describe a healthy lifestyle you know.
3/ Describe something you do to help you study or work.
4/ Describe a water sport you would like to try in the future.
5/ Describe a person who has interesting ideas or opinions.
6/ Describe a person you have seen who is beautiful or handsome.
7/ Describe a singer that you like.
8/ Describe a meal yon united your friends to in your home or m a restaurant.
9/ Describe an occasion you got up early in the morning.
10/ Describe an activity you would do when you are alone m your free tone.
11/ Describe a piece of good news you heard (from TV or the Internet).
12/ Describe the information that was incorrect that you got.
13/ Describe a time when someone didn't tell you the whole truth about something.
14/ Describe a party that you joined.
15/ Describe an old person who is interesting.
16/ Describe a time you taught something new to a younger person.
17/ Describe a time you received a call from somebody you don't know in the public.
18/ Describe an item you bought but don't often use.
19/ Describe a time that you had to change your plan/ you changed your mind.
20/ Describe a tune you received horrible service.
21/ Describe a histone building that you have visited.
22/ Describe a person you wanted to be similar to when you were growing up.
23/ Describe a quiz program or game show on TV.
24/ Describe a tune you enjoyed your free tune.
25/ Describe an intelligent person you know.
26/ Describe a prize you want to get.
27/ Describe a kind of food people eat during a special event.
28/ Describe something that you brought home from a tourist attraction.
29/ Describe a tune you looked for information from the internet.
30/ Describe a person who made you laugh happily when you were a child.
31/ Describe an unusual experience of traveling/ Describe a place you visited with your friends and you had a good time.
32/ Describe something lost by others but found by you.
33/ Describe a subject you used to dislike but now have interest in.
34/ Describe a free day off study or work.
35/ Describe a book you have read recently.
36/ Describe a newly built public facility (such as parks, cinemas. ) that influences your city.
37/ Describe someone you haven't seen before but you would like to know.
38/ Describe a teenager you know.
39/ Describe an equipment of yours that had problems Describe a time that a piece of equipment of yours was broken (such as TV).
40/ Describe a complaint that you made and you were satisfied with the result.
41/ Describe a person who helps protect the environment.
42/ Describe a game you played in your childhood.
43/ Describe another language (not English) you would like to learn.
44/ Describe a situation when you didn't have enough time.
45/ Describe an important decision made with the help of other people.
46/ Describe a historical period you are interested in.
47/ Describe someone you would like to study or work with.
48/ Describe something interesting happened in your school.
49/ Describe an outdoor sport you played for the first time.
50/ Describe an ideal house.
51. Describe a success your friend has achieved.
52. Describe your grandparent's job.
Бесплатно скачать электронную книгу в удобном формате, смотреть и читать:
Скачать книгу IELTS Speaking and Actual Tests, Suggested Answers, May-August, 2019
- fileskachat.com, быстрое и бесплатное скачивание.
Скачать pdf
Ниже можно купить эту книгу по лучшей цене со скидкой с доставкой по всей России.
Купить эту книгу
Скачать
- pdf - Яндекс.Диск.
Дата публикации:
Теги:
тесты по английскому языку
::
английский язык